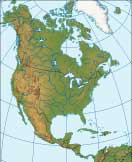 North America Travel and Tourism
---
The continent of North America has something for every traveler. Beach lovers revel in the warm, tropical climates of the Mexican coastal resorts and various Caribbean islands. History buffs enjoy Colonial Williamsburg in Virginia and the old Spanish missions of Southwestern United States. Tourists who enjoy the sights and sounds of big cities are drawn to New York, Toronto, San Francisco, and Vancouver, while those who prefer a quieter vacation can visit the many beautiful National Parks in the USA and Canada. In the far north, the cold Arctic climate draws hunters and sport fishermen to wilderness camps in Alaska and Canada.

Travelers to North America often fly to the gateway cities of Boston (BOS), New York (JFK), and Miami (MIA) on the East Coast or to Vancouver (YVR), San Francisco (SFO), and Los Angeles (LAX) on the West Coast. However, international flights are also available to other major North American cities such as Toronto, Chicago, Atlanta, Denver and Dallas as well as travel destinations in Mexico and the Caribbean.

Major international airlines such as Air Canada, American Airlines, Delta Airlines, Northwest Airlines, and United Airlines offer airline flights between North America and many other destinations. In addition, many South American and overseas airlines offer flights between North America and the countries where they are based.

If your plans include a business trip or a family vacation to North America, this United States airport list can help you find major airports near your travel destination, and this hotel directory can help you find suitable lodging.

Top vacation destinations in Canada include Montreal, Vancouver, and Quebec City while New York City, Orlando, Honolulu, San Francisco, and Las Vegas are popular USA tourist destinations.
Canadian Cities
Montreal, located on Montreal Island and the north bank of the St Lawrence River, is Canada's second largest city and the nation's chief port.
Vancouver, located in southwestern British Columbia, is Canada's third largest city and its primary Pacific port.
Quebec City, a World Heritage Site located in Quebec province at the confluence of the St Charles and St Lawrence Rivers, is one of the oldest cities in North America.
USA Cities
New York City, a major port and financial center located at the mouth of New York State's Hudson River, is the most populous city in the USA.
Orlando, a popular winter vacation destination in central Florida, is the home of theme parks such as Walt Disney World and the Magic Kingdom.
Honolulu, the capital city of Hawaii, is an important port and a popular vacation destination.
San Francisco, located on a north central California peninsula, is a cosmopolitan port city with a mild climate and many tourist attractions.
Las Vegas, a sprawling city located in southern Nevada, is a famous gambling and entertainment center.
The Caribbean region is also a popular North American vacation destination, as are the National Parks in United States and Canada. You can find Caribbean vacation and travel information at our Caribbean Map and Caribbean Islands websites. Travelers who enjoy nature and outdoor recreation should check out Fodors Parks for information and tips about visiting North America's national parks.
---
Copyright © North-America-Map.com. All rights reserved.

North America Travel - North America Tourism